Providing for the pets we love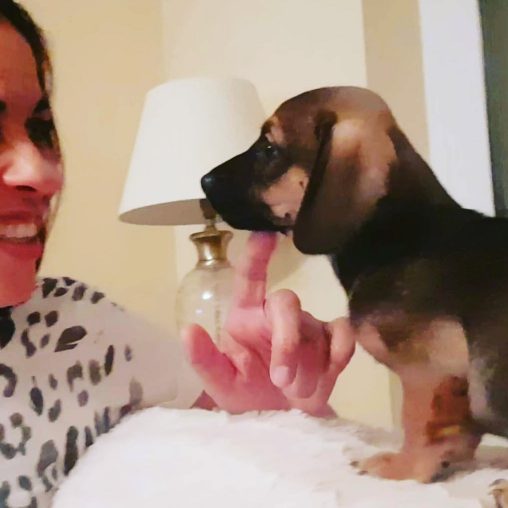 At Dawsons Law we are an office of animal lovers. Last year we introduced Eliud to the office, a Chiweenie (Dachshund/ Chihuahua cross) and for those of you in the Hethersett community who have met our darling Eluid, you know that he believes himself to be part Rottweiler.
One of the positive things that happened because of lockdown was the Dawsons Law Team being able to spend more time with their animals, even Louis' fish were a comfort to him, along with our rescued tortoises Emmet and Harry. We are sure that many pet owners felt as Team Dawson Law did in March – happy for the company of our pets when we were so restricted in terms of socialising with others. Pets are wonderful, unlike us they did not get anxious or depressed by the daily news bulletins and statistics. Our pets carried on as cheerful as always and seemed to be glad that we did not disappear to work as often as before. Even Sophie has succumbed to the joy of pets and is looking forward to her pet pooch Remy joining the clan very soon.
Pets are part of our family, but many of us overlook what would happen to them if we were no longer around to care for them. Especially as they get older themselves, our pets depend on us looking after them. We feed them, perhaps (like in the case of Susannah's old dog, Bobby, give them medication several times a day and let them exercise, whether this be on a walk or a prowl round the neighbourhood. But what if we were suddenly not there for them?
As Dawsons Law we have prepared more and more Wills with provisions for pets in them over the past few months. This may be because we see our pets as loved ones too and so we ask our Clients to consider provision for their beloved animals. This has led to provisions for pets to be left with specific family members or friends, and on occasions when there is no other person, then the pets have been signposted to specific rescue organisations who would take a pet in such circumstances and care for them, trying their hardest to find them a new home. These provisions often include a monetary gift to help support beneficiary with the ongoing cost of caring for the pet.
It is always important to have a Will, so that your wishes can be put into effect when you die. At Dawsons Law, we know that pets are part of the family. We are able to advise you about making provision for your dog, cat, horse, parrot or tortoise so that you know you have made sure that they will be looked after, which will give you peace of mind.
For those who no longer have pets in their household but remain pet lovers there are a range of very local charities which you may wish to gift monies to in your Will such as PACT or Norfolk and Suffolk Animal Trust. We can assist in you updating your Will to include such gifts or prepare a Codicil amending your current Will to include a gift to charity
Call us on 01603 327280, or call into the office to make an appointment and we will be happy to help.
Written by Susannah Parr and Salena Dawson (solicitors at Dawsons Law)